ORGANIC WASTE IS ONE OF THE MOST DANGEROUS
​KIND OF WASTE THAT PLAGUES OUR MOTHER EARTH.
It causes air pollution, pollutes waterways and poisons underground water table.
​
WES TECH INC, a California based environmental engineering company, has developed an Earth saving technology which captures greenhouse gases from organic wastes in the fastest possible time.
WES technology is the ONLY "In Vessel", fully Integrated, self-contained, and 100% pollution free process in the world today.
​​Just as nature had intended, the technology speeds up the processes already performed by our planet. WES Technology is protected under US Patent No. 6,569,331 and considered "First in the World."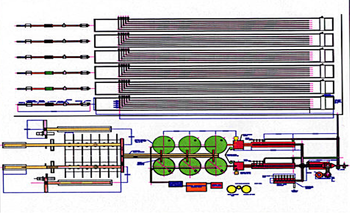 WES SYSTEM TECHNOLOGY WILL PROVIDE SOLUTIONS TO FIVE MAJOR ENVIRONMENTS, ECONOMIC AND SOCIAL PROBLEMS, ALL UNDER ONE ROOF:
​
1. Accelerated Bio-gas Extraction and processing in 72 hours. The process prevent waste accumulations such as animal, food, agricultural and other kind of organic waste that decomposes and causes air and water pollution. The system is capable of eliminating Open Lagoons and Stock piling of Manure or "Trapping".

2. Production of cheaper and cleaner Green renewable Energy (Natural Gas and Electricity);

3. Production of well balanced, non-pathogenic and premium quality organic fertilizer and soil amendments. Capable of initiating large scale organic farming to produce cheaper and healthier organic food;

4. Creation of thousands of employments, directly and indirectly, through up line and down line industries.

5. It will significantly help improve the Economic and Social conditions of the Community.

WES technology is qualified as Clean Development Mechanism (CDM) under Kyoto Protocol Agreement and the new Paris Agreement since it will abate atmospheric emission of Carbon Dioxide (CO²). It is also qualified under "Cap and Trade" program in US and other incentives available for WES kind of technology.


---
WES SYSTEM WILL ENABLE TO ACHIEVE A ZERO WASTE FACILITY